Basketball Court Dimensions
Basketball courts come in a range of different sizes, however some features remain the same, such as the size and height of the basket and the distance of the basket from the free throw line.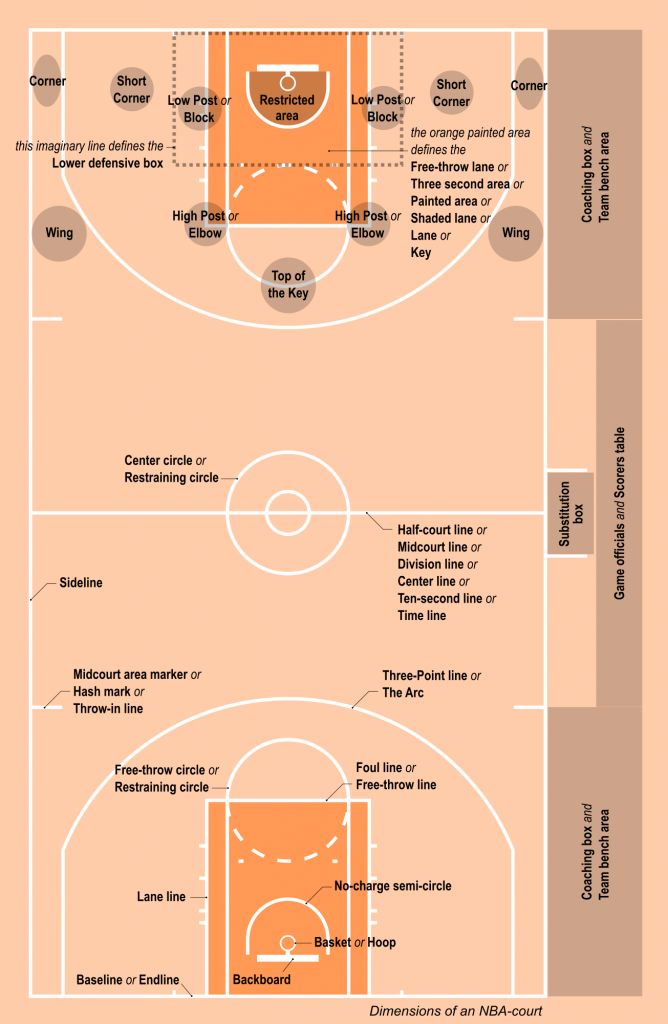 ---
The International Basketball Federation (FIBA) rules, dictate that a FIBA-regulation size Basketball court, measures exactly 28 by 15 meters (91.9 ft by 49.2 ft).
In the National Basketball Association (NBA), the court is 28.7 by 15.2 metres (94 ft by 50 ft).
Basketball Court Lines
All lines should be 5cm in width and should be painted in a single colour throughout (usually white)
Hoop
In amateur basketball, court sizes can vary widely. One thing that remains identical on all Basketball courts are the hoops are always 10 feet (3.05 m) above the floor (except in some youth competitions). Basketball courts have a three-point arc at both baskets.
Three Point Arc
The three point arc is a specific distance from the basket. Any shot made outside of the three point arc is worth three points instead of the normal two.
The distance from the hoop to the three point arc varies for under different regulations:
| | | |
| --- | --- | --- |
| | Arc Radius | Minimum Distance from Sidelines |
| FIBA | 6.75 m (22 ft 2 in) | 0.9 m (2 ft 11 in) |
| NBA | 23 ft 9 in (7.24 m) | 3 ft 0 in (0.91 m) |
The three point line is not part of the three-point field goal area.
Free Throw Line
The free-throw line on FIBA-regulation sized courts is 15.09 feet from the backboard. The NBA, the NCAA and the National Federation of State High School Associations dictate that the free-throw line is 15 feet horizontally from the plane of the front of the backboard.
What is the length of a Basketball Court?
A FIBA-regulation sized Basketball Court has a length of 28 metres. An NBA-regulation Basketball Court has a length of 28.7 metres.
What is the width of a Basketball Court?
A FIBA-regulation sized Basketball Court has a width of 15 metres. An NBA-regulation Basketball Court has a length of 15.2 metres.
FIBA & NBA Basketball Court Dimensions Diagram
MSF Sports can custom design your dream basketball court to FIBA, NBA or NCAA regulations.
The most advanced and trusted commercial-grade suspended interlocking multi sports court flooring system.
Proudly Australian-owned & operated, we've been offering elite-level sports court systems for over 15 years, having built 100's of sports courts across the country.
PP (Polypropylene) is the primary component of our exclusive high density sports flooring, and is a durable and recyclable material. Our technology out-dates older sports court technologies, increasing life-span, usability and safety for all weather conditions, minimising strain to joints and reducing the hassles and costs - while maintaining an elite level of professional game-play.
---
Benefits of MSF Sports Court Technology:
Consistent ball bounce

Sound reduction by half

Increased grip – anti-slip

Make the most of an empty space (saving time mowing lawns)

Add value to your property

Save time and costs travelling to stadiums just to train

Water drainage system – eliminates puddles, increases safety, ready to play in 10 minutes after heavy rain

Create a safer and more durable surface – no cracking, no warping, no fading

More economical and more versatile solution for all locations

Virtually eradicates maintenance costs

5 year limited warranty + 20 year life expectancy